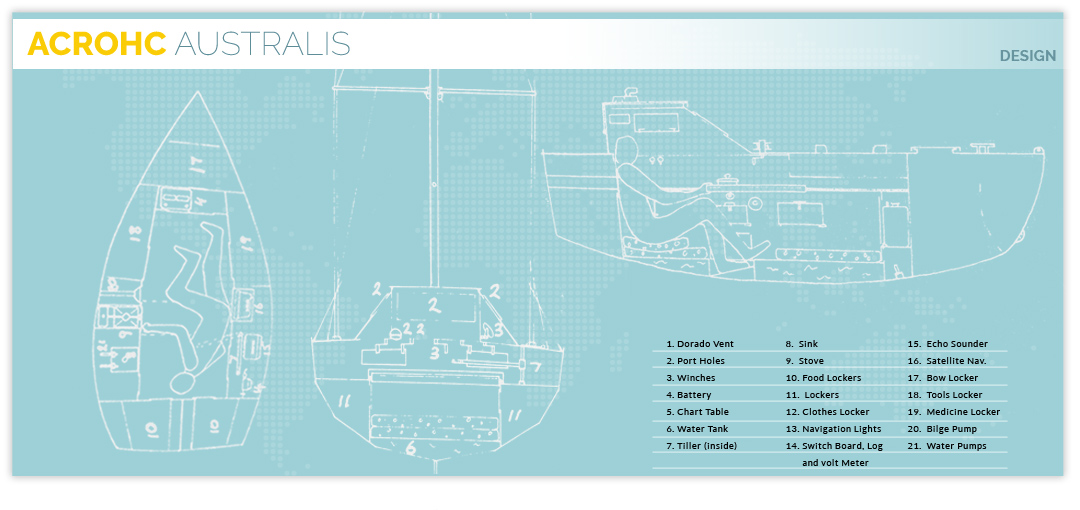 All Serge wanted was to cruise around the world. But money was a problem. Looking at his dinghy one day he thought:
"If I really wanted to go cruising, why did I need to have a big boat when I could fit everything necessary into a 12 foot boat? The idea became more attractive as I realized that a 12 foot boat was affordable and would leave me with money left over to travel."
The boat needed to be indestructible in the worst weather; unsinkable if hit by a tanker; have room for one full sized bunk; enough storage for 3-4 months of supplies; be as watertight as possible; sail as fast as possible– and still be only 12 feet long.
The result was Acrohc Australis: Acrohc,"thingamajig" in his mother's native Italian dialect, and Australis for Serge's adopted country, Australia.
Serge built her of 3mm aluminum for ease of construction and strength, with five watertight lockers to keep supplies dry and to keep her afloat if holed.
Storage for 100 liters of water was under the bunk. The 5 ft. keel had a torpedo ballast—the most efficient shape for speed and to keep the weight low to help her stay upright. A horizontal plate midway up the keel reduced drift when she was heeled over.
A plate on the bottom of the rudder helped stabilize her and reduce horsing. All sail and rudder controls, including a simple, built-in self steering system, were operable from within the cabin so the hatch could be kept shut in bad weather. When open, the hatch served as a seat.
Equipment was kept to a minimum. She had a compass, log, depth sounder, radio receiver and radio direction finder (RDF). For the first two thirds of his trip, Serge navigated by sextant. For the last leg across the Pacific, he had a satnav (a precursor of the GPS system). A small solar panel and battery provided power for instruments and navigation lights. She had an outboard motor and 20 liters of fuel, used mostly to maneuver in and out of harbours.
Save
Save
Save
Save
Save
Save
Save
Save
Save
Save
Save
Save
Save
Save
Save
Save
Save
Save
Save
Save
Save
Save
Save
Save
Save
Save
Save
Save
Save
Save
Save
Save
Save
Save
Save
Save
Save
Save
Save
Save
Save
Save
Save
Save
Save
Save
Save
Save
Save
Save